The all new Across International AccuTemp-160 series digital vacuum oven is the largest oven in the AT Series and is the perfect solution for labs in need of an oven that can process large amounts of materials at one time.
The gigantic 16 cubic foot oven chamber is made of easy-to-clean stainless steel which provides exceptional durability and ease of maintenance.
This oven comes equipped with 6 well thermo-conducted solid aluminum heated shelves – each with individual in-shelf temperature sensor, heater, and digital temperature controller – with the option to add up to 6 more low-profile, stackable aluminum shelves.
Optimal Vacuum Levels
The Ai AT Series digital vacuum ovens greatly reduce drying time of your extracts by maintaining a deep, consistent vacuum level within the chamber – making them the best choice for curing and converting oil extractions.
Increased Productivity, Quality, and Consistency
These vac ovens also produce deep vacuum levels that allow them to operate at the optimal temperature for allowing the purging process to occur rapidly. The result is an increase in the consistent output of superior quality extracts with a minimal processing time.
Additional Oven Features
All stainless steel internal vacuum tubing and compression fittings that holds vacuum 10 times longer and deeper than with rubber tubing. They also provide you the most sanitary working environment, while last for decades without maintenance.
Oil-filled mechanical vacuum gauge ensures the most accurate and stable measurements.
Built-in secondary over-temp dial for added protection.
Adjustable vacuum and vent port with needle valves gives you control over vacuum and vent rates, while also largely enhanced durability.
3rd gen low proportional gain temperature controller keeps your oven temperature within +/- 1°F accuracy, in either °F or °C.
Built-in white LED lights
Built-in check valve prevents vacuum oil back flow.
Built-in alarm alerts you when oven has been shut down by safety circuitry due to out of range temperature.
Built-in station-able swivel casters with locks for ultra-portability.
Dual layer observation window with 3/4″ tempered safety glass.
| | |
| --- | --- |
| Dimensions | Oven Chamber = 25.5"W x 30.5"D x 35.5"H divided into six 25.5"W x 30"D x 5"H vertical sections |
| Interior | Stainless steel. |
| Safety Features | Built-in circuit breaker, controller overheat protection, and secondary over-temp dial |
| Shelves | Six non-removable aluminum heated shelves with individual in-oven temp sensor, heater and controller (additional stackable shelves available) |
| Temp Control | Low proportional gain, PID control for heater output by microcomputer |
| Quality Control | All vacuum ovens undergo a 2-time, 24hr vacuum leak test twice and are 100% quality controlled at either our New Jersey or Nevada facility before shipment. |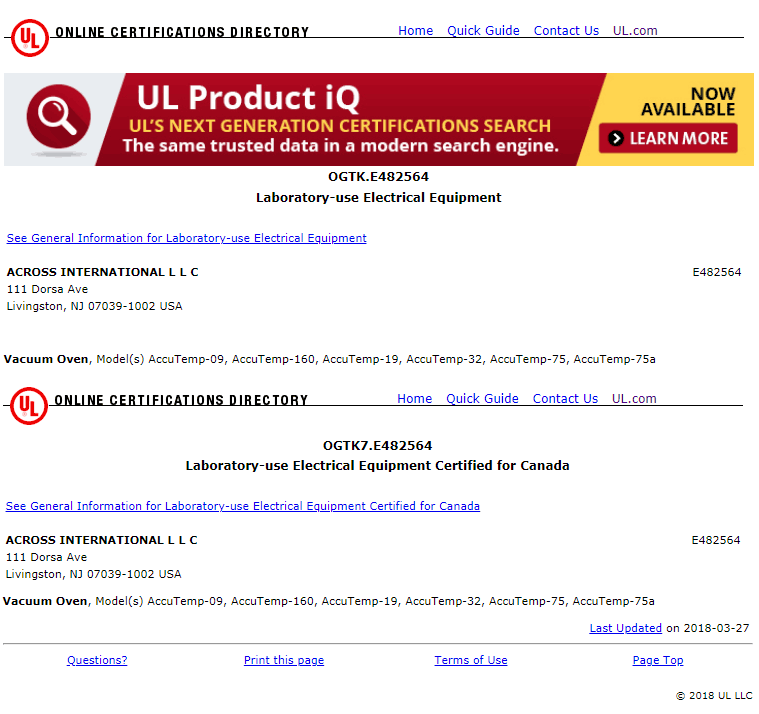 Vacuum oven specifications
 Electric
 110V +/-10% 60Hz 1-PH 13.6A, 1500 watts
or
220V +/-10% 50/60Hz 1-PH 6.8A, 1500 watts
Heaters: 250 watts x 6, built into 6 aluminum shelves, for the fastest, most energy efficient and uniform heating.
 Chamber
 Dimensions: 25.6 x 30 x 35.5″ (WxDxH)
Material: Stainless steel
Capacity: 16 cubit feet
 Temperature control
 Controller: 3rd gen low proportional gain, microcomputer PID controlled with LCD display
Range: ambient to 100°C (200°F)
Display units: Fahrenheit or Celsius
Accuracy: +/- 1°F
Uniformity: +/- 5% of setpoint
Dwelling timer range: 1 to 9999 minutes
 Vacuum
 Ultimate vacuum level: better than 500 microns/millitorrs
(may vary based on your altitude, click here to learn more)
Mechanical vacuum gauge range: 0 to 30 inch mercury
Mechanical vacuum gauge type: oil-filled
Vacuum port: KF25 flange x 1
Vent port: 5/8″ hose barb x 1
 Weight
 Unit: 710 Lbs, shipping: 940 Lbs
 Dimensions (WxDxH)
 Unit: 33 x 37 x 52″
Shipping: 43 x 40 x 60″
 Shelves
 Heated shelves: 6 non-removalbe aluminum shelves, 25 x 29.25 inches (WxD) each
Optional stackable aluminum shelves: 25 x 29.25 x 2.375 inches (WxDxH)
Distance between shelves (without stackable shelves): 5 inches
Distance between shelves (with 6 stackable shelves): 2.375 inches
Total area without stackable shelves: 731 x 6 = 30 sq ft or 4386 sq inch
Total area with 6 stackable shelves: 731 x 12 = 60 sq ft or 8772 sq inch
 Door gasket material
 Silicone
 Observation window
 1/2″ tempered safety glass
 Safety
 Built-in circuit breaker, controller overheat protection, secondary over-temp protection dial
 In-door lights
 White LED (pre-installed)
 Compliance
 UL (E482564), CSA, CE
 Approximate time to reach full vacuum
 With Edwards E2M28 21 cfm pump: 8 minutes
With Ai SuperVac 11.3 cfm pump: 11 minutes
 Download
 Product brochure
Standard package
| | | |
| --- | --- | --- |
|  Part description |  Quantity | Part image |
|  Ai UL/CSA certified AccuTemp 16 cu ft vacuum oven | 1 pc | |
|  KF25 quick clamp and centering ring | 1 set | |
|  User's manual | 1 pc | |
All vacuum ovens are intended for lawful purposes only.